Parish Pilgrimage to Canterbury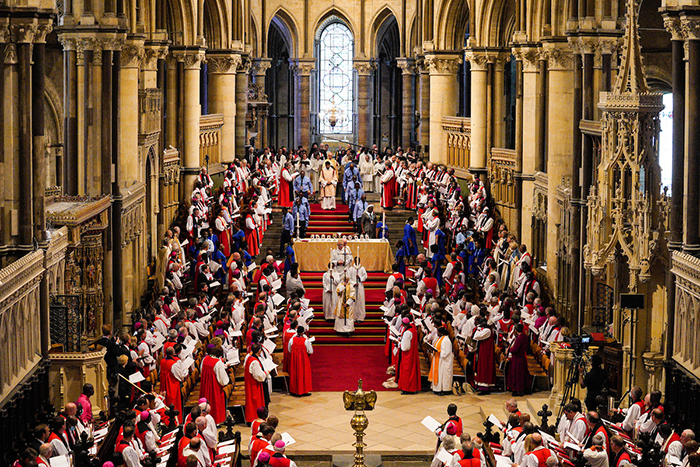 24 July 2023
Canterbury is where Augustine, sent by Gregory the Great, was consecrated Bishop in 597 and planted the beginnings of the Church of England.
We will be meeting at the Cathedral at 11am. Pilgrims are welcome to join us on the train journey at 9.38am from St Pancras. The day ends with Evening Prayer at 5.30pm before our return. During the day there will be a tour of Canterbury Cathedral, the potential to visit St Martin's Church and St Augustine's Abbey.
9.38am - Train from St Pancras
Those who wish to travel by train, we will leave St Pancras at 9.38am. The train gets in at Canterbury West at 10.30am. If you have a railcard you may want to book for yourself, otherwise we can make a group booking (£35/adult, £2/child).
11.00am - Arrive at Canterbury Cathedral
We will be greeted at Canterbury Cathedral with tea/coffee and biscuits. Those who have found their own way to Canterbury can meet us there.
11.15am - Tour of the Cathedral
We will have a guided story tour about the incredible historical, architectural and religious background of the Cathedral. Canterbury Cathedral has been a major pilgrimage site for over a millennia, first to visit the tomb of St Alphege and then later to visit the tomb of Thomas Becket, who was killed in the Cathedral. 
12.30am - Lunch
After the tour has finished pilgrims are free to eat their lunch. You may wish to go to one of the many cafes or restaurants in Canterbury, or if you bring a picnic to eat it somewhere in the city.
1.30pm - St Augustine's Abbey
First created in the 6th century as the burial site for the Anglo-Saxon kings of Kent, St Augustine's Abbey was the home of the mission to convert England from its founding in 598. The site is mostly a ruin and is managed by English Heritage (members get free entry), but there is lots to learn by visiting this site.
If you would prefer not to visit the abbey, Canterbury has lots to offer, from shopping, a roman museum and walking the city walls.
3.30pm - St Martin's Church
St Martin's Church is the oldest church in England, founded in 597AD. We will be given a little talk on the history of the church and let loose to look around this amazing building, which with the Abbey and the Cathedral makes up the UNESCO World Heritage Site.
If you would prefer not to visit the church there are shops, a roman museum, a walk of the city walls and many other things to do around Canterbury.
5.30pm - Evensong
To finish off our day we are welcomed back to Canterbury Cathedral for Evensong – one of the core traditions of the Church of England.
7.23pm - Train departs from Canterbury West
Thos travelling by train leave from Canterbury West back to St Pancras, London and home.